Coalition for a Sustainable Built Environment
Where the Candidates Stand on Green Buildings
​
​
With the 2020 primary season well underway, there are scores of policy proposals flying around, particularly on environmental issues like climate change, energy efficiency and resilience from natural disasters.
But what about buildings? Buildings account for more than 40 percent of U.S. greenhouse has emissions and 70 percent of electricity use. Any comprehensive policy proposal on the environment should include the built environment as part of the solution.
CSBE reviewed the candidates' websites to find out where they stand on sustainable building issues. Read on to see what each candidate says (or does not say) about green buildings.
​
Subscribe to the CSBE's Washington Word and stay in the loop on green-building policy!
​
Key Takeaways
​
What does reviewing every Presidential candidates' website tell us about where the candidates stand on sustainable buildings policy?
​
Trump and the others aren't even speaking the same language.
While Democratic candidates tout their climate change-fighting credentials, the re-election website for President Trump doesn't even mention climate - except to highlight his adminstration's withdrawal from the Paris climate accords. Interestingly, Trump's GOP challengers generally agree that climate change is an issue - but it is unlikely any of them will wrest the nomination away from the incumbent. The disparity between President Trump and the Democrats shouldn't be surprising, as candidates are playing to their respective bases. But it underscores how far apart the parties are on green issues.
​
All candidates who discuss climate agree it's a major concern.
Not surprisingly, all the Democratic candidates who delve into policy agree that climate change is a major concern; many are supportive, or have outright endorsed, the Green New Deal, and most if not all pledge to rejoin the Paris climate agreement should they be elected. Most of the policy differences are on the edges: how aggressive carbon reduction targets should be, or where limited funding should go.
​
Those that have detailed climate policies mention buildings, to some extent.
Not every candidate has outlined a detailed policy agenda, while some go into exhaustive detail. In general, those that mention climate also mention buildings. That said, many seem to consider buildings as a secondary facet of climate change, after transportation and energy production and deployment. Very few identify buildings as a distinct sector deserving of policy attention.
​
A lot of candidates do not outline specifics.
Some candidates who talk about green buildings are notably vague on the details, saying, for instance, they pledge to make houses more energy efficient without explaining how they will do it. This is not necessarily surprising, particularly at this early stage in the political process. But the devil will most certainly be in the details.
​
Supporting a policy and getting it enacted are not the same thing.
Some candidates stand out with very bold, comprehensive agendas for reducing energy consumption in the building sector. But having a long list of policy goals does not mean they will become law if the candidate wins next year. They will have to deal with a Congress that will have ideas of its own, and many proposals come with hefty price tags. If you're looking for a candidate who will get things done policy-wise, it's also good to question how effective they will be.
​
All but one of these candidates will lose.
At the end of the day, only one of these candidates will be the President in 2021. Some Democratic challengers are focusing on a single issue to the virtual exclusion of other topics; for example, Washington Governor Jay Inslee's campaign platform is all about climate (and has a pretty detailed plan for buildings, too. Few expect him to be the nominee, but speculate his goal in running is to make sure climate stays on the agenda (and, perhaps, to bolster his chances of running EPA in a Democratic administration). The extent to which the eventual nominee will incorporate ideas from the also-rans into their platform is an open question, meaning many of the ideas below may end up on the cutting-room floor.
​
Candidates won't necessarily talk about buildings unless the industry speaks up.
Most policy proposals don't spring from the candidates' minds; they get on their agenda because citizens, activists, interest groups and business leaders make them a priority. To the extent that the candidates are talking about buildings at all is testament to the work of building advocates over the years to get these ideas onto the table. But making sure that green building policies occupy a visible space in the 2020 agenda will take a lot more advocacy over the next several months.
​
​
Where the Democratic Candidates Stand
Michael Bennet
---
U.S. Senator (CO) https://michaelbennet.com/climateplan/ ​Opening Statement "We need bold action and enduring solutions. America's Climate Change Plan will reduce emissions in line with the most aggressive targets set by the world's scientists and achieve 100 percent clean, net-zero emissions as soon as possible, and no later than 2050. Our plan will drive economic growth for the 21st century and create millions of high-paying jobs." What They Say About . . . . . . Green Buildings "Create a Climate X Option to require power providers to offer zero-emission energy to every household and business" "Deploy distributed water systems to cut energy use." "Collaborate with the private sector to improve energy efficiency in buildings and vehicles." "Offer retrofits and access to zero-emission energy like community solar to the 7 million struggling families, including renters, that have to choose between paying their energy bill or buying food or medicine every month." "Require new federally subsidized housing to be energy efficient, resilient, and powered by zero-emission energy." Sustainable Communities "Through a combination of tax credits and incentives to states, provide every American the option to use a zero-emission vehicle or transit program." . . . Resilience "Invest [through a Climate Bank] in American universities and innovators to develop zero-emission technologies and rebuild American communities to withstand the effects of climate change." "Invest in the resiliency of our military infrastructure. Extreme weather in the last year resulted in costly damage to the Air Force's advanced fighter fleet and the base that is home to U.S. Strategic Command. U.S. bases must develop weather and climate resiliency plans, and new military construction plans must consider the effects of climate change."
---
Joe Biden
---
Former Vice President
Opening Statement
"Vice President Biden knows there is no greater challenge facing our country and our world. Today, he is outlining a bold plan – a Clean Energy Revolution – to address this grave threat and lead the world in addressing the climate emergency."
What They Say About . . .
. . . Green Buildings
"Building on his efforts in the Recovery Act, Biden will set a target of reducing the carbon footprint of the U.S. building stock 50% by 2035, creating incentives for deep retrofits that combine appliance electrification, efficiency, and on-site clean power generation. He will work to identify barriers to help offset the upfront cost of building upgrades and put in place a national program to target a package of affordable energy efficiency retrofits in American homes. He will direct the U.S. Department of Housing and Urban Development to make housing for low-income communities more efficient. He will direct the U.S. Department of Energy to redouble efforts to accelerate new efficiency standards for household appliances and equipment. And, he will repair and accelerate the building code process and create a new funding mechanism for states and cities to adopt strict building codes and train builders and inspectors."
"Ensuring that all U.S. government installations, buildings, and facilities are more efficient and climate-ready, harnessing the purchasing power and supply chains to drive innovation."
"Saving consumers money and reduce emissions through new, aggressive appliance- and building-efficiency standards."
"Establish ARPA-C, a new, cross-agency Advanced Research Projects Agency focused on climate," including "refrigeration and air conditioning using refrigerants with no global warming potential; zero net energy buildings at zero net cost; recarbonizing industrial heat needed to make steel, concrete, and chemicals and reimagining carbon-neutral construction materials;"
. . . Sustainable Communities
"Empowering local communities to develop transportation solutions. Communities across the country are experiencing a growing need for alternative and cleaner transportation options, including transit, dedicated bicycle and pedestrian thoroughfares, and first- and last-mile connections. The Biden Administration will transform the way we fund local transportation, giving state and local governments, with input from community stakeholders, more flexibility to use any new transportation funds to build safer, cleaner, and more accessible transportation ecosystem."
"Mitigating the climate impact of urban sprawl. Housing policy can be used as a tool to battle climate change and expand the middle class. Many lower- and middle-income Americans are forced to live far away from job centers due to high housing costs, leading not only to workers being overburdened by long commutes, but also to higher emissions associated with increased traffic and extra-long commuting times. Altering local regulations to eliminate sprawl and allow for denser, more affordable housing near public transit would cut commute times for many of the country's workers while decreasing their carbon footprint. This means that emission-reduction strategies not only combat climate change but also save consumers money."
. . . Resilience
"On day one, Biden will make smart infrastructure investments to rebuild the nation and to ensure that our buildings, water, transportation, and energy infrastructure can withstand the impacts of climate change. Every dollar spent toward rebuilding our roads, bridges, buildings, the electric grid, and our water infrastructure will be used to prevent, reduce, and withstand a changing climate."
"As President, Biden will use the convening power of government to boost climate resilience efforts by developing regional climate resilience plans, in partnership with local universities and national labs, for local access to the most relevant science, data, information, tools, and training."
"Biden will bring together the best innovators to help design common-sense zoning and building codes and help communities build and rebuild before and after natural disasters and other shocks and stresses.
"Develop new tools to manage and reduce risk and the cost of transferring risk. Working with the insurance industry, the Biden Administration will identify ways to lower property insurance premiums for homeowners and communities who invest in resilience, expanding programs like the Community Rating System that FEMA currently administers across the country."
"Invest in the climate resilience of our military bases and critical security infrastructure across the U.S. and around the world, to deal with the risk of climate change effects, including extreme weather events that caused over $8 billion in damages to Department of Defense bases in just the last year. Biden will direct the Secretaries of Defense and Energy to develop specific inventories of the most acute vulnerabilities in our critical infrastructure due to climate change, and prioritize upgrades, hardening, and resilience investments to mitigate them."
---
Pete Buttigieg
---
Mayor, South Bend, Indiana
https://peteforamerica.com/issues/
​
Opening Statement
"Climate security is a life and death issue for our generation. Pete knows it is long overdue to take bold, decisive action to eliminate greenhouse gas pollution once and for all while creating new, high-paying jobs. We will rise to the challenge and do it in the American way — by building and innovating. We will work with communities to ensure the transition to clean energy is inclusive and fair for all. We will fight for the right to be healthy — to have clean air to breathe and clean water to drink. And we will prepare our military and disaster response agencies for the security threats of climate change."
​
What They Say About . . .
. . . Green Buildings
"Increase energy efficiency in homes"
"Invest in building retrofits"
. . . Sustainable Communities
No specific mentions
. . . Resilience
"Strengthen rural resilience and protect rural communities from environmental hazards"
---
Michael Bloomberg
---
Entrepreneur, former New York City Mayor https://www.mikebloomberg.com/ Opening Statement
"Mike is a global leader in the fight against the climate crisis and has helped drive progress on every continent through his role as the UN Secretary-General's Special Envoy for Climate Action. He has worked with cities, states, and businesses to keep our country moving forward on climate change despite President Trump's failed attempts to drag us backwards. As president, Mike will ensure the federal government leads an ambitious agenda to accelerate the U.S. toward a clean energy economy."
What They Say About . . .
. . . Green Buildings
No specific mentions
. . . Sustainable Communities
No specific mentions
. . . Resilience
• Make funding clean energy and resilience a priority for U.S. development assistance programs in the President's annual budget request.
• Put military bases at home and abroad on a path to self-sufficiency by improving the resilience of all infrastructure that the military relies on at home and abroad from the effects of climate change, while reducing greenhouse gas emissions.
• Strengthen military bases at home and abroad to make them resilient to the effects of climate change.
---
John Delaney
---
Former U.S. Congressman (MD)
https://www.johndelaney.com/issues
Opening Statement
"John Delaney is serious about tackling climate change. It's a big problem and it requires big solutions, which is why Delaney is announcing his $4 trillion Climate Plan that is full of new ideas and innovative solutions."
​
What They Say About . . .
​
. . . Green Buildings
"Provide information and support to families about sustainability, energy efficiency, and renewable energy"
"Assist in clean energy projects including solar installation, improving building efficiency, developing community gardens, and increasing awareness about sustainable practices"
"Delaney proposes a 5-fold increase in DOE green energy programs, including the Office of Energy Efficiency and Renewable Energy, the Advanced Research Projects Agency-Energy, and the Office of Nuclear Energy. This investment will support research to improve energy storage, battery performance, sustainable transportation technology, grid efficiency, renewable energy, energy efficiency, carbon capture, advanced nuclear, and energy conservation technology."
​
. . . Sustainable Communities
No specific mentions
​
. . . Resilience
"Delaney proposes the creation of a $60 billion Climate Infrastructure Fund that will allow state and local governments to invest in and prioritize projects that will expand and improve climate resilient infrastructure in addition to improving energy efficiency in our systems."
---
Tulsi Gabbard
---
U.S. Representative (HI)
https://www.tulsi2020.com/about
​
Opening Statement
"She is a champion for protecting our environment, ensuring clean water and air for generations to come, investing in infrastructure and a green energy economy, healthcare for all, civil liberties and privacy, support for small businesses, criminal justice reform, sustainable agriculture, breaking up the big banks…and she needs your help!"
​
What They Say About . . .
​
. . . Green Buildings
No specific mentions
​
. . . Sustainable Communities
No specific mentions
​
. . . Resilience
No specific mentions
---
Amy Klobuchar
---
U.S. Senator (MN)
https://amyklobuchar.com/issues/
​
Opening Statement
"Amy is deeply committed to tackling the climate crisis and believes that it is an urgent priority for our communities, for our economy and for our planet. She is a co-sponsor of a Green New Deal and has signed the No Fossil Fuel Money Pledge. On day one of Amy's presidency she will get us back into the International Climate Change Agreement. On day two and day three, she will bring back the clean power rules and gas mileage standards that the Obama Administration put into place. And she will put forward sweeping legislation that provides a landmark investment in clean-energy jobs and infrastructure, provides incentives for tougher building codes, promotes rural renewable energy and development, and promotes "buy clean" policies."
​
What They Say About . . .
​
. . . Green Buildings
"She will put forward sweeping legislation that provides a landmark investment in clean-energy jobs and infrastructure, provides incentives for tougher building codes, promotes rural renewable energy and development, and promotes "buy clean" policies."
​
. . . Sustainable Communities
No specific mentions
​
. . . Resilience
No specific mentions
---
Bernie Sanders
---
U.S. Senator (VT)
https://berniesanders.com/issues/
​
Opening Statement
"We need a president who has the courage, the vision, and the record to face down the greed of fossil fuel executives and the billionaire class who stand in the way of climate action. We need a president who welcomes their hatred. Bernie will lead our country to enact the Green New Deal and bring the world together to defeat the existential threat of climate change."
​
What They Say About . . .
​
. . . Green Buildings
"Weatherize homes and businesses to perform energy efficiency upgrades to make buildings more energy efficient and lower energy bills. We will provide $2.18 trillion for sliding-scale grants for low- and moderate-income families and small businesses to invest in weatherizing and retrofitting their homes and businesses. Weatherization will reduce residential energy consumption by 30 percent. Because our mobile home stock is leaky and often very old, we plan to replace all mobile homes with zero-energy modular homes. As we move forward with energy efficiency efforts, we will prioritize the oldest, leakiest and least energy efficient homes and the homes of seniors, people with disabilities, and low-income families first. A federal mandate through the Department of Energy will ensure that new and existing commercial buildings and wealthy homeowners meet our energy retrofit goals."
"Electrify homes and businesses. One of the best ways to ensure that everyone is comfortable in their homes on the hottest days of summer and the coldest days of winter is to bring all non-electric uses of energy onto the electric grid. For example, so many of our homes still use dirty oil, propane, and fracked natural gas for heating and cooling. We plan to provide $964 billion for sliding-scale grants for low- and moderate-income families and small businesses to invest in cheaper electricity for these needs. A federal mandate through the Department of Energy will ensure that all new construction, existing big business commercial buildings, and wealthy homeowners meet our electrification goals."
. . . Sustainable Communities
"Build public transit that is affordable, accessible, fast, and resilient. With a $300 billion investment, we will increase public transit ridership by 65 percent by 2030. We will ensure that reliable, affordable public transit is accessible for seniors, people with disabilities, and rural communities. In addition to expanding transit service to communities, we will promote transit-oriented development to link this service to popular destinations and vital community services. For too long, government policy has encouraged long car commutes, congestion, and dangerous emissions. The Green New Deal will reverse these trends and create more livable, connected, and vibrant communities."
​
. . . Resilience
"Justice for frontline communities – especially under-resourced groups, communities of color, Native Americans, people with disabilities, children and the elderly – to recover from, and prepare for, the climate impacts, including through a $40 billion Climate Justice Resiliency Fund."
"Once the CJRF is established and funded at $40 billion, the EPA, together with a number of other agencies, will conduct a nationwide survey to identify areas with high climate impact vulnerabilities and other socioeconomic factors, public health challenges, and environmental hazards. Each community will then be eligible for funding in order of most vulnerable to least vulnerable."
"The interagency council will issue block grants to states, territories, tribes, municipalities, counties, localities, and nonprofit community organizations. The funds will be able to be used for climate resiliency projects, building emergency community centers and shelters with reliable backup power, wetland restoration, abandoned fossil fuel infrastructure and other environmental hazard reclamation; seawalls; community relocation; community evacuation plans and resources for safe and complete evacuation."
"Within the CJRF, we will establish an Office of Climate Resiliency for People with Disabilities. The office will be led by people with disabilities to ensure that nationwide, the needs of people with disabilities are consistently addressed during adaptation planning and that those efforts are coordinated throughout the federal government."
---
Tom Steyer
---
Investor
https://www.tomsteyer.com/about-tom/
​
Opening Statement
"Tom and his wife have devoted hours of their time and donated tens of millions of dollars to charitable projects that advance education, renewable energy, clean air and water, healthy food, sustainable agriculture, self-sustaining communities and more."
​
What They Say About . . .
​
. . . Green Buildings
No specific mentions
​
. . . Sustainable Communities
No specific mentions
​
. . . Resilience
No specific mentions
​
---
Elizabeth Warren
---
U.S. Senator (MA)
https://elizabethwarren.com/issues
Opening Statement
"Today, climate change poses both an existential threat and a scientific challenge. We already see its effects — record floods, devastating wildfires, 100-year storms that happen every year — costing lives and billions of dollars in damage. The world's leading experts agree that without aggressive action and serious technological innovation, climate change will cause incredible harm across the world. This is truly a global problem. While much of the debate around the Green New Deal has focused on the path to aggressive reductions in domestic greenhouse gas emissions, the science is clear: even if we reduce America's emissions so that they are net-zero by 2030, we will still fall far short of the reduction in global emissions needed to avert a climate crisis. To satisfy this global need, we need rapid innovation on par with the space race along with widespread domestic and international adoption of clean, renewable, and emission-free energy technology. This is a challenge — but like the challenges America has faced before, it is also an opportunity."
​
What They Say About . . .
​
. . . Green Buildings
"The federal procurement commitment will cover a broad spectrum of products, from zero-emission vehicles to energy storage technology to heat pumps to energy efficient light bulbs. It will also include bulk purchases to provide American-made clean energy products to state and local governments at discounted rates."
"We should require all new federal government contracts for manufactured goods to have received relevant energy-efficiency, environmental-preference, and/or safety designations."
​
. . . Sustainable Communities
No specific mentions
​
. . . Resilience
"To improve readiness and resilience to climate-related events, we should also create a dedicated source of funding to adapt our bases in the United States and around the world. Let's save money by budgeting for climate change on the front end, so that the Pentagon doesn't have to ask for more only after a base is flooded or equipment damaged when natural disasters strike."
---
Andrew Yang
---
Entrepreneur
https://www.yang2020.com/policies/
​
"Climate change is an existential threat to humanity and our way of life. It should be a top priority of the federal government to implement policies to control anthropogenic climate change while working with other governments to implement these policies throughout the world."
​
What They Say About . . .
​
. . . Green Buildings
"Bring down household electric bills"
"Include a series of Challenge Grants to include advanced materials and designs in new American structures with an emphasis on sustainability."
​
. . . Sustainable Communities
"Work with localities to relax zoning ordinances for the purpose of increasing the development of affordable housing."
"Encourage the building of new innovative housing options like micro-apartments and communal living for people in high-density urban areas."
"Prioritize sustainable infrastructure and urban development to take advantage of new materials and designs."
​
. . . Resilience
No specific mention
---
---
Where the Republican Candidates Stand
Donald Trump
---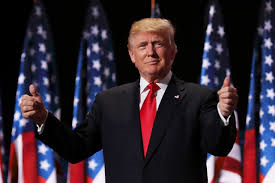 Incumbent President
​
Opening Statement
"President Trump directed the Environmental Protection Agency (EPA) to rescind the Obama Administration's Clean Power Plan (CPP).
According to NERA Economic Consulting, the CPP would have increased electricity rates by as much as 14 percent, costing American households up to $79 billion."
​
What They Say About . . .
​
. . . Green Buildings
No specific mention
​
. . . Sustainable Communities
"The President's infrastructure plan will establish a Rural Infrastructure Program to invest in rebuilding and modernizing rural infrastructure. . . The array of broad asset classes eligible for funding under President Trump's plan will include: Transportation projects which will rebuild roads, bridges, railways, and other vital infrastructure; Broadband deployment projects which will improve access for rural communities; Water and waste projects to help ensure rural families have access to clean water; Power and electric projects to provide rural areas with reliable, affordable power; Water resources projects to better manage flood risk and improve rural water supplies and waterways."
. . . Resilience
No specific mention
---
Mark Sanford
---
Former Governor (SC) https://www.marksanford.com/issues/ Opening Statement "I've seen first hand rising sea levels over the course of my life at our family farm in the low country of South Carolina. In areas where pine trees once stood, there are now salt flats. On this issue, the scientific consensus fits with what I've seen firsthand, and that is that it's real. I think it's important to listen to what the scientific community has said here. After all, It makes no sense to say that one believes in the modern advances of science and the way they can cure and heal the human body, but then discount what science says in other areas of our lives. "The problem in my view has not been in whether or not it may be real, but in how we do something about it. I do not believe in things like the Kyoto Protocol, that would tie America and Western Europe to one standard, but hold China and India to a completely different standard, even though the overwhelming growth of new emissions will come these two places." What They Say About. . . . . .Green Buildings No specific mention . . . Sustainable Communities No specific mention . . . Resilience No specific mention
---
Joe Walsh
---
Former Congressman (IL) https://www.joewalsh.org/ Opening Statement No mention of the environment on his campaign website; in an August 2019 interview on PBS Newshour, "Walsh [said] he recognizes climate change is impacted by human activities. 'The Republican Party has to acknowledge it's a problem. This president won't,' Walsh said." What They Say About . . . ... Green Buildings No specific mention ...Sustainable Communities No specific mention ... Resilience No specific mention
---
William Weld
---
Former Governor (MA)
https://www.weld2020.org/about
​
Opening Statement
No mention of the environment on his campaign website, but according to E&E News in November 2019, "Weld told Fox News last month that climate is a 'major, major issue — maybe even my No. 1 issue.' And he said in a NowThis News video that it is an 'existential threat to the planet.'"
​
What They Say About . . .
​
. . . Green Buildings
No specific mention
​
. . . Sustainable Communities
No specific mention
​
. . . Resilience
No specific mention
---
---
About the CSBE
​
The Coalition for a Sustainable Built Environment is an alliance of building industry companies and professionals who work with government to advance policy change that fosters buildings that are safe, sustainable and economically vibrant.
​
To receive updates from the CSBE on the latest in sustainable buildings policy, sign up here!
​
(Disclaimer: CSBE does not endorse candidates in primary or general elections. Nothing in this report should be construed as support or opposition to any candidate. Candidates and parties are listed alphabetically. CSBE took every effort to report on candidates' positions accurately; any mistakes or omissions were inadvertent. Please email info@agoragov.com with any suggested corrections.)
Copyright 2019, Coalition for a Sustainable Built Environment. All rights reserved.