Coalition for a Sustainable Built Environment
​
Where the Candidates Stand on Green Buildings
With the 2020 election season well underway, there are scores of policy proposals flying around, particularly on environmental issues like climate change, energy efficiency and resilience from natural disasters.
But what about buildings? Buildings account for more than 40 percent of U.S. greenhouse gas emissions and 70 percent of electricity use. Any comprehensive policy proposal on the environment should include the built environment as part of the solution.
BuildingAction reviewed the candidates' websites to find out where they stand on sustainable building issues. Read on to see what each candidate says (or does not say) about green buildings.
​
​
​
​
The Democrats
Joe Biden
---
Former Vice President
Opening Statement
"Vice President Biden knows there is no greater challenge facing our country and our world. Today, he is outlining a bold plan – a Clean Energy Revolution – to address this grave threat and lead the world in addressing the climate emergency."
What They Say About . . .
. . . Green Buildings
"Building on his efforts in the Recovery Act, Biden will set a target of reducing the carbon footprint of the U.S. building stock 50% by 2035, creating incentives for deep retrofits that combine appliance electrification, efficiency, and on-site clean power generation. He will work to identify barriers to help offset the upfront cost of building upgrades and put in place a national program to target a package of affordable energy efficiency retrofits in American homes. He will direct the U.S. Department of Housing and Urban Development to make housing for low-income communities more efficient. He will direct the U.S. Department of Energy to redouble efforts to accelerate new efficiency standards for household appliances and equipment. And, he will repair and accelerate the building code process and create a new funding mechanism for states and cities to adopt strict building codes and train builders and inspectors."
"Ensuring that all U.S. government installations, buildings, and facilities are more efficient and climate-ready, harnessing the purchasing power and supply chains to drive innovation."
"Saving consumers money and reduce emissions through new, aggressive appliance- and building-efficiency standards."
"Establish ARPA-C, a new, cross-agency Advanced Research Projects Agency focused on climate," including "refrigeration and air conditioning using refrigerants with no global warming potential; zero net energy buildings at zero net cost; recarbonizing industrial heat needed to make steel, concrete, and chemicals and reimagining carbon-neutral construction materials;"
. . . Sustainable Communities
"Empowering local communities to develop transportation solutions. Communities across the country are experiencing a growing need for alternative and cleaner transportation options, including transit, dedicated bicycle and pedestrian thoroughfares, and first- and last-mile connections. The Biden Administration will transform the way we fund local transportation, giving state and local governments, with input from community stakeholders, more flexibility to use any new transportation funds to build safer, cleaner, and more accessible transportation ecosystem."
"Mitigating the climate impact of urban sprawl. Housing policy can be used as a tool to battle climate change and expand the middle class. Many lower- and middle-income Americans are forced to live far away from job centers due to high housing costs, leading not only to workers being overburdened by long commutes, but also to higher emissions associated with increased traffic and extra-long commuting times. Altering local regulations to eliminate sprawl and allow for denser, more affordable housing near public transit would cut commute times for many of the country's workers while decreasing their carbon footprint. This means that emission-reduction strategies not only combat climate change but also save consumers money."
. . . Resilience
"On day one, Biden will make smart infrastructure investments to rebuild the nation and to ensure that our buildings, water, transportation, and energy infrastructure can withstand the impacts of climate change. Every dollar spent toward rebuilding our roads, bridges, buildings, the electric grid, and our water infrastructure will be used to prevent, reduce, and withstand a changing climate."
"As President, Biden will use the convening power of government to boost climate resilience efforts by developing regional climate resilience plans, in partnership with local universities and national labs, for local access to the most relevant science, data, information, tools, and training."
"Biden will bring together the best innovators to help design common-sense zoning and building codes and help communities build and rebuild before and after natural disasters and other shocks and stresses.
"Develop new tools to manage and reduce risk and the cost of transferring risk. Working with the insurance industry, the Biden Administration will identify ways to lower property insurance premiums for homeowners and communities who invest in resilience, expanding programs like the Community Rating System that FEMA currently administers across the country."
"Invest in the climate resilience of our military bases and critical security infrastructure across the U.S. and around the world, to deal with the risk of climate change effects, including extreme weather events that caused over $8 billion in damages to Department of Defense bases in just the last year. Biden will direct the Secretaries of Defense and Energy to develop specific inventories of the most acute vulnerabilities in our critical infrastructure due to climate change, and prioritize upgrades, hardening, and resilience investments to mitigate them."
---
Donald Trump
---
Incumbent President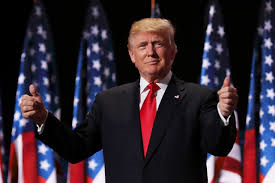 https://www.donaldjtrump.com/ ​ Opening Statement "President Trump directed the Environmental Protection Agency (EPA) to rescind the Obama Administration's Clean Power Plan (CPP). According to NERA Economic Consulting, the CPP would have increased electricity rates by as much as 14 percent, costing American households up to $79 billion." ​ What They Say About . . . ​ . . . Green Buildings No specific mention ​ . . . Sustainable Communities "The President's infrastructure plan will establish a Rural Infrastructure Program to invest in rebuilding and modernizing rural infrastructure. . . The array of broad asset classes eligible for funding under President Trump's plan will include: Transportation projects which will rebuild roads, bridges, railways, and other vital infrastructure; Broadband deployment projects which will improve access for rural communities; Water and waste projects to help ensure rural families have access to clean water; Power and electric projects to provide rural areas with reliable, affordable power; Water resources projects to better manage flood risk and improve rural water supplies and waterways." . . . Resilience No specific mention
---
---
BuildingAction does not endorse candidates in primary or general elections. Nothing in this report should be construed as support or opposition to any candidate. Candidates and parties are listed alphabetically. BuildingAction made every effort to report on candidates' positions accurately; any mistakes or omissions were inadvertent. Please email info@agoragov.com with any suggested corrections.)
Copyright 2020, BuilidngAction. All rights reserved.